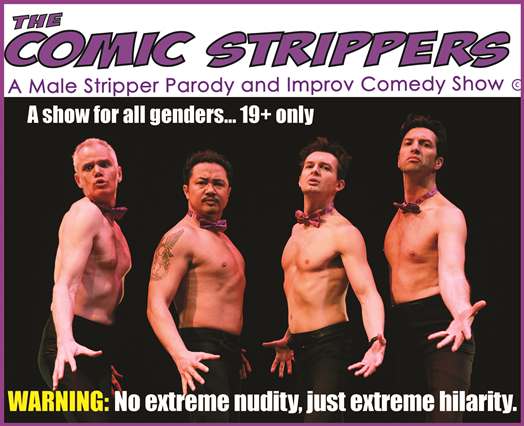 We are giving our listeners a chance to win a pair of tickets to an evening of hilarious comedy!
All you have to do is be listening for your "Cue to Call" beginning Tuesday Oct 9th, through to Friday Oct 12th for your chance to win a pair of tickets for the upcoming show at the Imperial Theatre on Sunday Oct 21st at 7:30
The Comic Strippers are a fictitious male stripper troupe, played by a cast of some of Canada's best improvisational comedians. These guys try to be sexy… it just comes out funny.  They sing, they "dance;" these guys are oiled up and ready to make you laugh. Semi-undressed and completely unscripted, The Comic Strippers take off their shirts and take on your suggestions to create a whole new genre of comedy.
WARNING: No extreme nudity, just extreme hilarity. A show for all genders… 19+ only
Reserved seating tickets for The Comic Strippers are $45.00 (facility fees tax incl., handling charges may apply), at the Imperial Theatre Box Office https://imperialtheatre.ca/ or by calling: 506-674-4100 or 1800-323-SHOW (7469)
Here is a sneak peak at what you are in for!
https://www.youtube.com/watch?feature=player_embedded&v=bqMfJTwFdXs#t=0

Remember to listen for your "Cue To Call" to win. You don't want to Miss this evening of Fun!