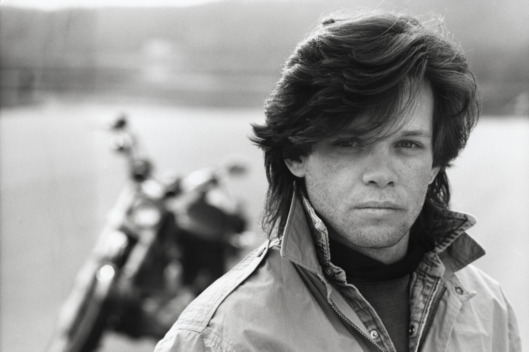 KOOL 98 Superstars – John Mellencamp Part 1 of 2
It is never good to date yourself with age…
But there are exceptions to every hardened rule. So I will fade back into the late summer of 1982 and the first two weeks of September as I entered Mount Allison University. The last week of August and first few days of Sept were extremely quiet…3- a -day practices along with early morning fitness testing and team meetings for the Mounties Football Camp. Off to bed dead tired from the days and exhausted from the heat, we surrendered to the dog days of late August.
All of that changed on Thursday Sept 1, as the incoming frosh were welcomed into their dorms by their upper classmates. For the next two weeks there were two songs that never stopped blaring from the halls of Bennett House. It was my introduction to university…and to the legendary John Cougar -John Cougar Mellencamp – John Mellencamp. The two songs were Jack & Diane and Hurts So Good…
"A Little ditty about Jack & Diane – two American kids growing up in the heart land – Jack he's gonna be a football star… As I remember no one ever complained and we never got sick of hearing it blasting through the windows of the dorm. Today we will look at the early part of KOOL 98 Superstar John Mellencamp in part 1 of a 2 Blog feature.
Life has not always been easy for John Mellencamp. He was born on October 7, 1951 in Seymour Indiana  in the middle of America's heart land. The young baby Mellencamp was diagnosed with spina bifida requiring corrective surgery as an infant. He never knew about the problem until he was 12 and a classmate asked him about the scar on his back. Only then did his parents tell him of his condition and how close to death he was. The young Mellencamp eloped with his pregnant girlfriend while still in high school and had a daughter just six months out of High School.
It was at this that John Mellencamp began to embark on a career in music. After months of traveling to New York City Mellencamp was finally offered a contract with one caveat. The name had to go. It would not sell to the public he was told. Tony DeFries loved the James Dean look and the sound of Mellencamp but his management group MainMan, whose clients included David Bowie Lou Reed and Iggy Pop. DeFries was convinced that no one would buy a record from a singer named Mellencamp. They kicked around Johnny Indiana, Johnny Puma, Johnny Mustang but settled on Johnny Cougar. It seemed a small price to pay but it did not help sales. His first Album Chestnut Street Incident moved only 12,000 copies. His second album The Kid Inside was put on the shelf by MainMan and MCA dropped him from their label. After MCA dropped him so did MainMan Management leaving him with a flop, a shelved album and a silly name.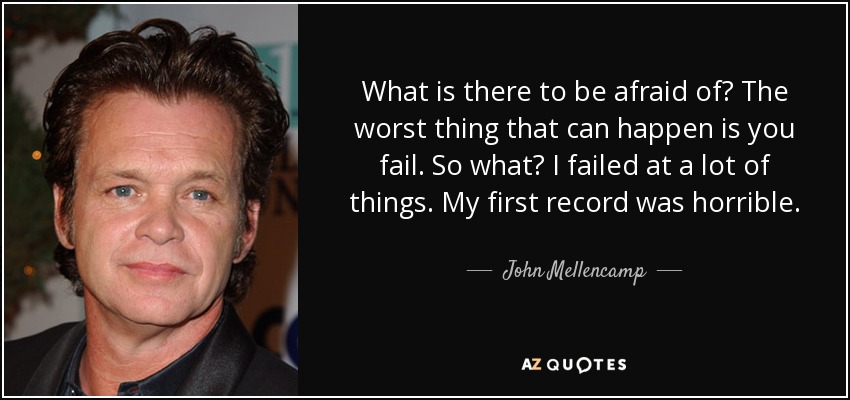 Rather than ditch the new moniker entirely, he changed the name to John Cougar. He moved to England, signed a new recording contract and released,  A Biography. The album never made it to the US market but it did spawn a hit in Australia with "I Need A Lover." The success down under opened new doors in the US and in 1979 the self-titled album John Cougar was released. The album came with some fanfare and hype as "I Need A Lover" hit #28 on the singles chart after a stint on American Bandstand.
John Cougar had his breakthrough in 1982 when the flood gates opened with the release of American Fool. The Album contained the singles "Hurts So Good", an classic rock tune that spent four weeks at #2 and spent 16 weeks in the top 10, and "Jack & Diane", which held the #1 spot for four weeks. A third single, "Hand to Hold on To", also cracked the top twenty checking in at #19. "Hurts So Good" went on to win the Grammy Award for Best Male Rock Vocal Performance at the 25th Grammys. With some commercial success and a Grammy under his belt, Cougar now had enough clout to force the record company to add his real surname, Mellencamp, to his stage name. The first album recorded under his new name John Cougar Mellencamp was 1983's Uh-Huh, a Top-10 album that turned out Top 10 singles "Pink Houses" and "Crumblin' Down" as well as the #14 hit "Authority Song", which Mellencamp said was "our version of "I Fought the Law'." During the recording of Uh-Huh, Mellencamp's backing band settled on the lineup it retained for the next several albums: Kenny Aronoff on drums and percussion, Larry Crane and Mike Wanchic on guitars, Toby Myers on bass and John Cascella on keyboards. In 1988, Rolling Stone magazine called this version of Mellencamp's band "one of the most powerful and versatile live bands ever assembled."
In 1985, Mellencamp released Scarecrow, which peaked at #2 on the Album Charts in the fall of 1985. Scarecrow, cranked out five Top 40 singles: "Lonely Ol' Night" #6″Small Town" #6 and "R.O.C.K. in the U.S.A. (A Salute to '60s Rock)"#2, "Rain on the Scarecrow" #2 and "Rumbleseat" #28. It solidified Mellencamp's standing in the Storyteller/Poet realm of American Music. Shortly after finishing Scarecrow, Mellencamp helped organize the first Farm Aid benefit concert with Willie Nelson and Neil Young in Champaign, Illinois on September 22, 1985. The Farm Aid concerts remain an annual event and have raised over $50 million for struggling family farmers as of 2018. In many ways Rain On The Scarecrow remains one of the most culturally relevant songs of the 21st Century. It remains as relevant today with the plight of Farmers everywhere. His storytelling genius especially with the release of Scarecrow became a hallmark of his song writing music and stage presence. Not one to back away from controversy, Mellencamp never misses an opportunity to turn the American Heart Land into the Holy Land, with common folks as his protagonist's.
Mellencamp's next studio album, 1987's The Lonesome Jubilee broke with conventional Mellencamp sound. It featured the singles "Paper in Fire" #9 "Cherry Bomb" #8 "Check It Out" #14 and "Rooty Toot Toot" #61. Popular album tracks "Hard Times for an Honest Man" and "The Real Life", both cracked the top 10 on the Billboard Album Rock Tracks chart.  As Mellencamp said, "For the first time ever, we talked about the record before we started. We had a very distinct vision of what should be happening here….of what we wanted it to sound like, even before it was written, right through to the day it was mastered." Vanity Fair proclaimed, "The Lonesome Jubilee was the album in which Mellencamp defined his now signature sound: a rousing, crystalline mix of acoustic and electric guitars, Appalachian fiddle, and gospel-style backing vocals, anchored by a crisp, bare-knuckle drumbeat and completed by his own velveteen rasp." In 1989, Mellencamp released the personal album Big Daddy, with the key tracks "Jackie Brown," "Big Daddy of Them All," and "Void in My Heart" accompanying the Top 15 single "Pop Singer." The album, which Mellencamp called at the time the most "earthy" record he'd ever made, is also the last to feature the "Cougar" moniker. In 1991, Mellencamp said: "'Big Daddy' was the best record I ever made. Out of my agony came a couple of really beautiful songs. You can't be 22 years old and had two dates and understand that album."
It marked yet another turning point in John Cougar Mellencamp's life.
Mellencamp was no longer just another musician his legend was being created in real time. The poignant lyrics of Jackie Brown hit a nerve with listeners. Even critics took notice. He distinguished himself further as a wordsmith, an advocate for the disenfranchised and rebel with a cause. So much so that the legendary Johnny Cash called him one of the 10 greatest songwriters in music. American Folk legend Pete Seeger once said, "All songwriters are links in a chain"…yet there are few artists in this evolutionary arc whose influence was more relevant than Mellencamp's in the decade of the 1980's.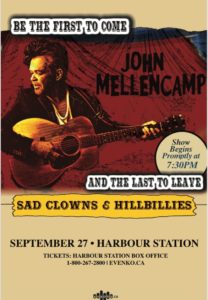 We will continue the story of John Mellencamp in the second part of the blog on Thursday September 27th. On that day, Mellencamp, will bring his Hillbillies & Clowns Tour to Harbour Station in Saint John. Next Thursday our listeners will have a chance to win a pair of tickets to take part in what will surely be a night to remember. so be sure to tune in to hear details on how you can win.
John Mellencamp is a true KOOL 98 Superstar – An American Icon…