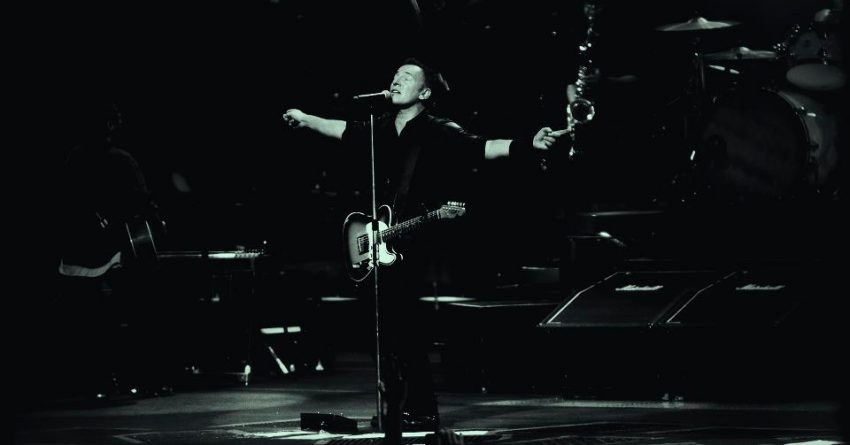 KOOL 98 Superstars – Bruce Springsteen Part 1 Of 2
"I come from a boardwalk town where almost everything is tinged with a bit of fraud. So am I. By twenty, no race car-car-driving rebel, I was a guitar player on the streets of Ashbury Park and already a member in good standing amongst those who "lie"in service of the truth…artists with a small "a." But I held four clean aces. I had youth, almost a decade of hard-core band experience, a good group of homegrown musicians who were attuned to my performance style and a story to tell."
These were the words of the opening paragraph of Born To Run, the autobiography of the Rock & Roll legend Bruce Springsteen. Born Bruce Frederick Douglas Springsteen on this day, September 23rd, 1949, we simply know him as "The Boss." Today we'll introduce a little change by inserting Bruce Springsteen into the blog, while Prince is today's Superstar. We will include Bruce Springsteens tribute to Prince upon his untimely death. This will be part one of a two part feature on "The Boss." The second part will be posted in mid October.
Bruce Springsteen has lived life as a small-town Jersey boy, a band leader on the bar circuit, a rock superstar, and a music video pioneer. He has also been a remarkably closed book. His quiet private life, his clean lifestyle and the lack of gossip about Springsteen has made him even more legendary. Like everything else we want to hear the stories behind the myths we already know about. Few people can tell us what it's like to play a gig like the Superbowl halftime show, or to go into the studio to record Born to Run. Springsteen admitted to Rolling Stone that his candor was, in part, to shatter the god-like myth that surrounds him: "Yeah, that part of my thing has always annoyed me," he told Brian Hiatt. "It's too much, you know. So any dent in it I can make, I'm pleased to do… I didn't have any rules, except I wanted what was in the book to relate back to my music. So the revelations I made about my family or my own inner workings, I felt that could be central to understanding where some of my music came from. "Tinged with a little fraud."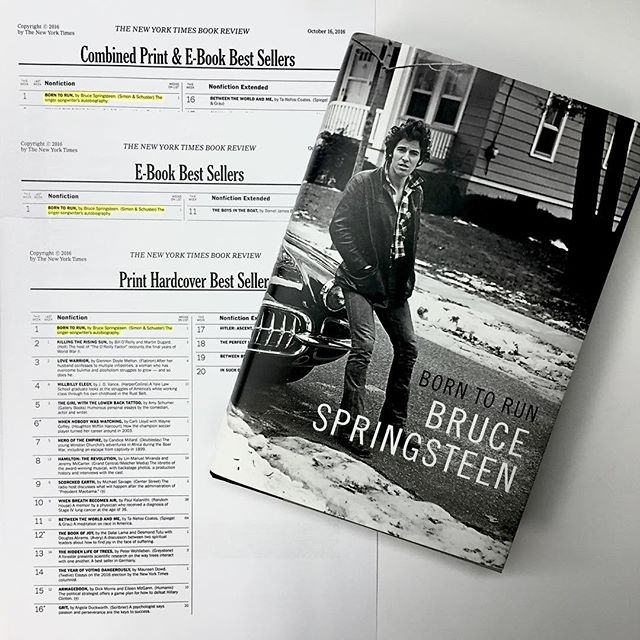 Springsteen's music has always been about storytelling. His songs tread the ground pop music always has—love, tragedy, life in general—but Springsteen brings a purely American storytelling aspect to his music that has made him an icon. Inspired by folk legends, Woody Guthrie, Pete Seeger, Lead Belly and forged by heroes Johnny Cash, Bob Dylan, Roy Orbison, Elvis and the Beatles, Springsteen turned his pen to the every day things that affected the average person on Main St. He is far from being a manufactured pop star. Springsteen is a  real guy who had a real life growing up in Freehold New Jersey, on the Jersey Shore surrounded buy the arcades, the beaches and the carnival life.
Ernest Hemingway once said in order to write about life, first you must live it. Bruce Springsteen's experiences have informed and shaped all of his songs. There can be no doubt we only know the half of it; there's seems to be so much darkness in Springsteen's work, you have to imagine that if you peeled back the poetry and the artistry and got to view the inspiring events behind those songs, there's probably some pretty shocking stuff.  As Waterstones nonfiction buyer Richard Humphreys said… "Bruce Springsteen is arguably the best in rock history at creating a sense of intimacy with his fans and he has certainly done this with the release of his long-awaited memoirs."
The success of his auto-biography and the poignancy of his writing, ultimately led to "Springsteen on Broadway" and a succession of sold out shows that will run through to, Dec 13th culminating in a Netflix Original "Springsteen On Broadway" which will stream Dec 15th, 2018.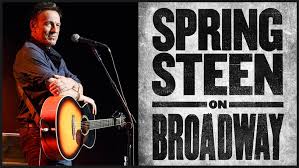 For over 5 decades now Bruce Springsteen has been a working class hero. a plainspoken visionary. He has been a passionate and sincere romantic, whose insights into the everyday lives of people, especially the middle class and and small town have drawn comparisons to John Steinbeck and Woody Guthrie. Springsteen's philosophy has remained centred in the mythic roots of Rock & Roll, that were part of the revitalization of of Rock& Roll and pop music in the 1980's. Most of us have been to rock concerts that have changed our lives. However, it's rare that a show affects the life of an attendee, which, in turn, changes the fortunes of the performer. That's exactly what happened on May 9, 1974, when Jon Landau went to see Bruce Springsteen at the Harvard Square Theater in Cambridge, Mass. Landau's prescience would eventually manifest itself in a legendary music and business partnership. Springsteen's release of Born To Run, in 1975, gained  critical acclaim and garnered successive covers of both Time & Newsweek back to back. His Follow up Darkness On The Edge Of Town met with the same accolades. He followed that up with The River, Nebraska, and Born In The USA.  As Bruce Springsteen matured his music hit nerves that resonated with blue collar and Springsteen aficionado's alike. They are as Eric Church sang about in his hit "Springsteen" a soundtrack to a July Saturday night.
Springsteen's recordings have included both commercially accessible rock albums and more somber folk-oriented works. He has sold more than 155 million records worldwide and more than 64 million records in the United States, making him one of the world's best-selling artists of all time. He has earned numerous awards for his work, including 20 Grammy Awards, two Golden Globes, an Academy Award, a Tony Award for Springsteen on Broadway, as well as being inducted into both the Songwriters Hall of Fame and the Rock And Roll Hall Of Fame in 1999. In 2009, Springsteen was a Kennedy Center Honors recipient, in 2013 was named MusiCares person of the year, and in 2016 was awarded the Presidential Medal of Freedom.
Have a peak at Jon Stewart's Induction Speech of Bruce Springsteen's 2009 Kennedy Center Honors. It is well worth a listen!
The legend of Bruce Springsteen continues to grow akin to urban myth. It is difficult to write about anything or anybody who has had and continues to have such an impact on your life. That is what music can do. That is the power of a Superstar. I have been to too many of his shows to give a number. That would be an embarrassing stat for anyone to give out. Yet in all of the shows I have been to; varying in length from 3:15 hrs to 4:04 minutes, I have never heard the same set list twice. That included 3 consecutive shows at the Meadowlands in New Jersey. In the second part of the blog post we will look at Springsteen's more recent material and the significance of his long running legacy in Rock & Roll History.
Bruce Springsteen is a true KOOL 98 Superstar…He is simply "The Boss."